Macon County Public Health
Laboratory
The MPHC Laboratory strives to provide accurate and timely laboratory testing in support of our medical clinics and community health programs. Laboratory services are available to the public with a physician order.
The laboratory also provides Breath Alcohol Testing and urine drug screen collections for area employers for their Drug Free Work Place Programs along with DNA specimen collections used for paternity determinations in child support cases and other private cases. Call (828) 349-2081 for more information.
Fees are based on the services provided. Third Party Billing for Insurance, Medicare, and/or Medicaid is available.
To find out about what testing services are offered, and specific charges, please call the lab Monday through Friday 8:30 a.m. to 4:30 p.m., at (828) 349-2081.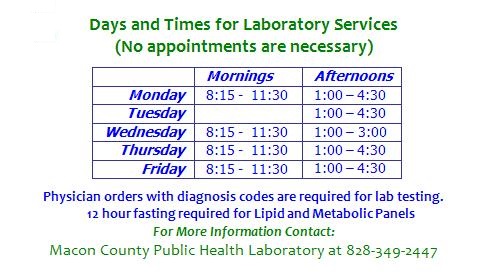 Some Tests sent to Reference Labs will need to be drawn by 2:00pm.
---
Clinical Testing
Laboratory services are open to the public. Testing requires a written order from a physician. The order must contain:
Procedures names or procedure codes
Ordering dostor's name, their address, fax number, phone number and NPI
All diagnosis associated with each procedure ordered
Physician ordered lab tests are vailable withoutan appointment except on Tuesday mornings.

Testing not performed within the local laboratory will be sent to a reference lab.
---
Environment Testing
Bacterial Analysis of Drinking Water
Private and Public water samples are accepted for testing:
Monday - Wednesday 8:00 a.m. - 5:00 p.m.
Thursday 8:00 a.m. - 12:00 noon
NO WATER SAMPLES WILL BE ACCEPTED ON FRIDAY OR THE DAY BEFORE A GOVERNMENT HOLIDAY.
Bacterial analysis determines the presence or absence of coliform bacteria and E.coli (Escherichia coli) bacteria and takes a minimum of 24 hours to a maximum of 48 hours from the time it is set up. Our laboratory offers two methods for water testing:
Colisure: Tests for (presence/absence) of coliforms and E.coli with definitive results at 24 hours.
Quanti-Tray: Provides rapid and accurate counts of coliforms and E.coli based on the Standard Methods Most Probable Number (MPN) model. Quanti-tray detects down to one organism per 100 ml. and results are available in 24 to 48hours.
** Water sample forms and sample bottles must be obtained from the Environmental Section at the Macon County Public Health Center. All water samples need to be brought in as soon as possible after collection (within an hour).
Links:
The Water Quality & Health Council
---
Drug Free Work Place Testing Services
The Macon County Public Health Center Laboratory is staffed with federally certified BAT's (Breath Alcohol Technicians) who are also certified Specimen Collectors for urine drug screens.
Breath Alcohol Testing:
DOT and non-DOT Breath alcohol testing is performed for employment purposes only. Employers must set up an account with the lab. Appointments are required.
Urine Drug Screen Collection:
DOT and non-DOT urine collections are performed for area employers. Employers must set up an account with the lab. Appointments are required. Drug screens will also be performed for medical necessity if the patient has an order from a physician
All testing and collections are performed according to 49 CFR Part 40 regulations.
All appointments must be made by the employer and require positive identification of the employee/donor, preferably a picture id, MRO (Medical Review Officer) services are also provided.
For information on setting up an account and cost of testing or for collection only call the lab at 828-349-2081.
For more information on DOT regulation please go to http://www.dot.gov/ost/dapc/
---
Paternity / DNA Collections
A Paternity test or DNA (Deoxyribonucleic Acid) test is performed to determine the biological relationship between two people, usually a child and "alleged" father. Each persons' DNA pattern is unique and specific to that individual (except for identical twins). Children inherit 50% of their DNA typing from their biological mother and 50% from their biological father.
DNA is located everywhere throughout the body in the exact same form; therefore, a DNA sample can be collected a variety of ways but the most common is by buccal swab (a swab of the lining of the jaw) or by venipuncture (blood drawn from the arm). The individual testing lab decides the way a specimen is collected but the majority of the time it is collected by buccal swab.
From the sample, the independent testing lab will extract the child's genetic material and compare it with the genetic material from the biological mother and biological father, thus, determining the paternity of the child.
The actual testing is not done at the health department, we are a collection facility only. An independent lab such as LabCorp of America, GeneScreen, GenuServe or DNA Diagnostics schedules the appointment for paternity collection. For child support purposes the appointment would be scheduled through Child Support Enforcement of Macon County.
For more information on Paternity/ DNA testing go to or call:
---
Frequently Asked Questions
Question: My physician wants me to have lab work. Can I come to the Health Department and have that lab work done?
Answer: YES. The laboratory will gladly accept written orders from your physician providing all necessary information is written on your prescription.
Question: What does fasting mean?
Answer: By definition, fasting means abstaining from all food and drinking only water. For laboratory test(s), a 12-hour fast becomes important when food and drinks may affect performing certain lab test(s).
Question: How do I get more information on paternity testing?
Answer: The laboratory does provide collections for paternity testing through various independent laboratories for a fee.
Question: I need to have my anticoagulant therapy monitored. Can I get a Prothombin Test(PT) and an International Normalized Ratio(INR) Test performed with a doctor's order?
Answer:Yes, MCPH can perform a PT/INR on capillary blood from a finger-stick or venous blood from a venipuncture. Other coagulation tests will be sent to a reference lab.
Question: I need a chicken pox titer for this health class I have enrolled in at school. Can I have that done at the health department?
Answer: YES. The health department laboratory will provide a chicken pox titer and other titers needed for school health programs for a fee.
Question: My doctor has written an order for me to have some lab tests done, how much are they?
Answer: Because there are literally thousands of laboratory tests available to assist your physician in diagnosis and management of your health, the laboratory asks that you call them directly for specific cost information.
Question: I live out of state and need lab work once a month. Can I come there and have my lab work done?
Answer: YES. The laboratory provides services for physicians throughout the US. We ask that all pertinent information be affixed to each written order that your physician writes, including your physicians name, telephone number, fax number, personal ID number (NPI#), and a diagnosis for third party billing, ie. insurance and Medicare.
Question: When my lab work is done, do you forward the results to my doctor?
Answer: YES. All lab work that has been ordered by your physician is faxed to that office.
Question: How do I have my child tested for drugs?
Answer: The laboratory will provide urine drug testing for those employers wanting to drug test their employees or medical necessity orders
Question: Medicaid requires me to have proof of pregnancy, how do I get that?
Answer: Once Medicaid has informed you that you must have proof of pregnancy to file for Medicaid services, you will need to have a documented pregnancy test that can be done here at our laboratory.
Question: Is all the lab testing performed there at the Health Department?
Answer: NO. Although some of the laboratory testing is performed on site, the laboratory uses other reference laboratories to perform some testing. The reference laboratories that we use are, LabCorp located in Burlington, NC and the North Carolina State Laboratory located in Raleigh.
Question: Can you bill Medicare for the lab work I am having done at the Health Department?
Answer: YES. The MCPH will insure that your laboratory services are billed to the appropriate insurance company. Your insurance may not pay fore all laboratory tests ordered by your physician. In the case that there is a question of coverage, you may be asked to sign an ABN, Advanced Beneficiary Notice,acknowledging that you will be responsible for payment should yuor insurance not pay.
Question: My employer requires me to have a urine drug screen, can I have it done at the Health Department?
Answer: YES. The laboratory can provide urine drug testing only for those employers that set up an account.
Question: My well water tastes bad, can I have my water tested there?
Answer: YES. The laboratory does provide both a qualitative and semiquantitative method for the detection of coliform bacteria within your water system. For additional information, please contact the Environment Health section at 828-349-2490.
Question: I take insulin for my diabetes, how and where do I dispose of my needles?
Answer: You must place your needles in a puncture proof container and you may drop them off at the Macon County landfill and recycling centers. When you drop them off, you must give the container directly to the attendant. Contact the Macon County Landfill fort further information.
A public resource on clinical lab testing is available from the lab professionals who do the testing.