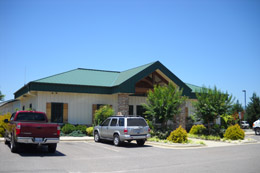 CONTACT:
Mailing Address:
Macon County Transit
Darlene Asher, Director
5 W. Main Street
Franklin, NC 28734

Physical Address:
36 Pannell Lane
Franklin, NC 28734
Phone: (828) 349-2222
Fax: (828) 349-2570
Email
---
For Persons with Hearing or Speech
Disabilities Call: 711 -or-
(800) 735-2962
Office Hours:
Monday-Friday*
8:00 a.m. to 5:00 p.m.
*Our services follow the Macon County Holiday Schedule.
Macon County • Transit
(828) 349-2222
Macon County Transit is Macon County's public transportation system. If you need transportation, try us! We'll Take You There! Macon County Transit may be able to take you to medical appointments, local shopping centers, work, Senior Center and other places. We have established routes throughout the County. For complete information please visit the external website of Macon County Transit.
The mission of Macon County Transit is to provide transportation services in an efficient, coordinated, cost effective manner that is responsive to the current needs of the residents of Macon County.
Anyone requiring non-emergency transportation is eligible to ride Macon County Transit. Macon County Transit does not provide emergency medical transportation. As a department of Macon County we follow the County Holiday Schedule.
As a recipient of Federal financial assistance, MCT does not exclude, deny benefits to, or otherwise discriminate against any person on the grounds of race, color, religion, sex, national origin, or on the basis of disability or age in admission to, participation in, or receipt of the services and benefits of any of its programs and activities or in employment therein, whether carried out by MCT directly or through a contractor or any other entity with whom MCT arranges to carryout its programs and activities.
Request for Transport

Request for transportation must be received by 11:00 AM the day prior to the date of the trip that is within Macon County. Appointments are taken on a first call first served basis. If calls are received after 11:00 AM, or capacity has been met, transportation will not be provided.
Out-of-county trips must be scheduled at least one (1) week in advance of the trip. If appointments are made less than a week in advance they will be taken on availability only. Appointments must be made between 10:00 am and 2:00 PM.
Staff