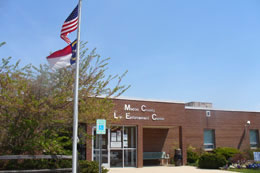 CONTACT:
Macon County Sheriff's Office
Law Enforcement Center
1820 Lakeside Drive
Franklin, NC 28734

Phone: (828) 349-2104
Fax: (828) 349-2275
---
DOWNLOADS:
PD-107 NC State Application

Identity Theft Victim's ToolKit

Compliment an Employee

File A Complaint
---
RESOURCES:
Search Macon County
Sexual Offender Registry
Protective Order & Other
Judicial Forms
---
---
---
---
---
---
Macon County Public Safety • Sheriff's Office
Sheriff Robert L. Holland
As the Sheriff of Macon County, I would like to welcome you to our web site. The website contains a variety of useful information for the public and is also designed to help make citizens more familiar with the Sheriff's Office.
The Macon County Sheriff's Office takes a proactive approach to law enforcement--focusing on working WITH the public and preventing crime before it happens. We firmly believe that, working together, we CAN make a positive difference in our community.
Thank you for visiting our web site. I invite you to come by and visit your Sheriff's Office and meet for yourself the dedicated men and women who are striving to better serve you."

---
Sheriff Holland's career in law enforcement began in 1990 when he volunteered with the Sheriff's Office and its Jr. Cadet Program. He was also employed as a part-time detention officer. He increased his education and training by his own initiative by attending Southwestern Community College. While attending SCC he was able to gain his law enforcement certification for NC Basic Law Enforcement Training as well as NC Detenition Officer Certification. Sheriff Holland served in the following positions before being elected as Sheriff.
Detention Officer
Animal Control Officer
Deputy Sheriff
Investigator
Detective Sgt. and Supervisor of the Sheriff's Office Juvenile Unit
While serving as Detective Sergeant with the Juvenile Unit, Holland played an instrumental role in the passage of the NC Infant Homicide Prevention Act, commonly referred to as the Safe Surrender law. Holland gathered several thousand signatures and presented the petition to the NC Legislature in support of the bill. He also testified before the House and Senate. Also while serving in the Juvenie Unit, Holland was awarded the L.T. Williams Juvenile Officer of the Year Award and the Donna B. Stone Memorial Award. He was also recognized by Governor Hunt for his work.
On December 2, 2002 Sheriff Holland was sworn into office and is currently serving in his fifth term as Macon County's Sheriff. Throughout his career in law enforcement, Holland has been deeply committed to making a positive difference in the community he serves.
---


Major Andy Shields is Macon County's Chief Deputy.
Graduated Franklin High School 1976
Joined Macon County Sheriff's Office in 1984
Investigator 1990
Graduate of the North Carolina Justice Academy's Criminal Investigation Certificate Program
Graduate FBI National Academy, 194th session
International Police Officer serving in Kosovo, 1999-2001
Narcotics Investigator 2001 -2002
Chief Deputy, Dec. 2, 2002 to present
---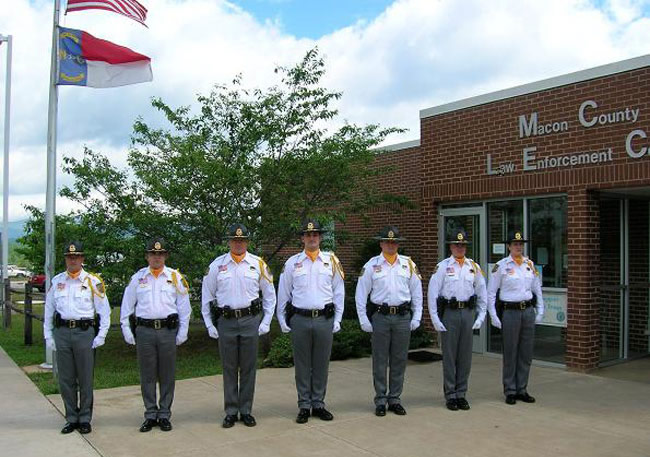 MACON COUNTY SHERIFF'S OFFICE HONOR GUARD