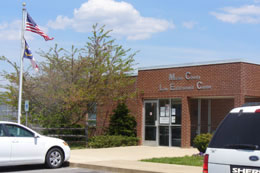 CONTACT:
Macon County Sheriff's Office
Law Enforcement Center
1820 Lakeside Drive
Franklin, NC 28734

Phone: (828) 349-2104
Fax: (828) 349-2275
---
DOWNLOADS:

Compliment an Employee

File A Complaint
---
RESOURCES:
Search Macon County
Sexual Offender Registry
Macon County Public Safety • Sheriff's Office
Community Safety Announcements
IDENTITY THEFT
Protecting Yourself Against Identity Theft
Shred ALL documents that have important numbers (such as Social Security numbers, credit card and bank reports, checks, pay stubs and credit card offers).
DO NOT give out your Social Security number unless it is needed for a legitimate reason.
Obtain a copy of your Credit Report every year from all three credit reporting agencies (Equifax, Experian and TransUnion).
NEVER carry your Social Security card in your wallet or purse.
Question your employer as to how he/she treats your personal information.
Memorize all PIN numbers and never carry them with you.
DO NOT give any credit card or other important numbers, including verifying your address and/or phone number, to anyone who calls offering a prize or gift.
Destroy all old credit cards.
Check your phone bill every month for calls you did not make.
How Identity Thieves Get Your Personal Information
They get information from businesses or other institutions by stealing, bribing, hacking or conning the information from an individual.
They steal your mail, including bank and credit card statements, credit card offers, new checks and tax information.
They may rummage through your trash.
They may get your credit reports by abusing their employer's authorized access to them.
They may steal your credit or debit card numbers by capturing the information in a data storage device in a practice known as "skimming".
They may steal your wallet or purse.
They may complete a "change of address form" to divert your mail to another location.
They may steal personal information they may find in your home.
They may steal personal information from you through e-mail or phone by posing as legitimate companies and claiming they have a problem with your account - this practice is known as "phishing" online or pretexting by phone.
Immediate Steps to Take if You're a Victim of Identity Theft
Place a fraud alert on your credit reports and review your credit reports (Equifax-1-800-525-6285, Experian-1-888-EXPERIAN, TransUnion-1-800-680-7289).
Close the accounts that you know or believe to have been tampered with or opened fraudulently.
File a report with your local law enforcement agency or in the community where the identity theft took place.
File a complaint with the Federal Trade Commission (1-877-IDTHEFT).
(This information was obtained from the National Crime Prevention Council and the Federal Trade Commission.)
---
INDICATORS OF TERRORIST AND DRUG ACTIVITY
Possible Use of Storage Facilities

Internationally law enforcement agencies of federal, state, and local jurisdiction are constantly seeking the community's assistance in taking a proactive approach to keeping American soil safe against terrorism and drug activity. In an effort to foster a heightened situational awareness in our communities, these agencies have identified a number of potential indicators of terrorism and drug activity as it pertains to use of storage facilities.
Historically, terrorist plots that involve Improvised Explosive Devices (IEDs) have utilized rental storage facilities to house parts of the bomb or supplies until the plotters have the time to assemble the weapon or prepare for the attack. Methamphetamine chemists also store and purchase materials included in the recipe for manufacturing methamphetamines in these same types of rental storage facilities and your very own local retail stores.
Customer behaviors that may be cause for concern: Insist on paying in cash, sometimes weeks or months in advance.
Seem overly concerned about privacy.
Visits the storage facility late at night or at unusual times.
Exhibit suspicious behavior by customers when approached by rental employees or security personal.
Have unusual fumes, liquids, residues or odors emanating from storage units.
Display burns or chemical exposure symptoms and provide vague or irrational explanations for the injuries.
Discard chemical containers in storage unit dumpsters.
Storage of the following items may also be cause for concern:
Pesticides
Weapons or ammunition
Flight manuals or other similar materials
Large delivery vehicles, vans, cargo container, trailers or related equipment
Quantities of fuel
Agriculture or industrial chemicals
Agricultural equipment, such as commercial sprayers
Explosives, blasting caps or fuses
Methamphetamine Laboratory materials (e.g., flasks, sealed containers) or protective clothing (e.g., surgical masks, gas masks, rubber gloves, self-contained breathing apparatuses), incinerators, incubators, cell cultures, agricultural sprayers, improvised showers and eye baths, and textbooks and journals discussing biology, chemistry, explosives and poisons, acetone, aluminum foil, anhydrous ammonia, brake cleaner, camping fuel, coffee filters, denatured alcohol drain cleaner, engine starter fluid, ether ephedrine/pseudo ephedrine products, funnels, gasoline additives, iodine, iodine crystal, iodine pill, iodine tincture, lithium batteries, lye, matches, methanol, muriatic acid, paint thinner propane tanks red phosphorus, rubber tubing, rubbing alcohol, sodium hydroxide sodium metal sulfuric acid, table or rock salt, toluene.
While no single fact is always an indicator of terrorist activity, it is imperative that operators and employees or storage facilities be aware of the above activities or behaviors.
It is important to remember that individuals renting storage facilities should not be selectively scrutinized based on nationality or appearances. Intelligence has indicated that terrorist groups are actively seeking to use non-Arabic, and non-middle eastern individuals as operators in order to avoid detection by law enforcement efforts.
Should storage facility owners, operators, or employees observe any of the activities or materials as outlined in this letter, they are urged to contact local law enforcement authorities. Contact for the observation of these tips can be made to the Macon County Sheriff's Office Criminal Investigations Division.
Chief Detective Lt. Brian Leopard (828) 349-2076
Detective Kenny Cope (828) 349-2573
Detective Chris Murray (828) 349-2075
Detective Scott Nelson (828) 349-2109

---
METHAMPHETAMINE
"Methamphetamine is one of the most prevalent drugs in Macon County. Drugs are the leading cause of our crime. The following information is posted on the Sheriff's Office web site to make citizens more aware of the drug and to continue the fight against this menace to our community."

Methamphetamine is commonly known as speed, meth, chalk, ice, crystal, crank and glass. It is a white, odorless, bitter-tasting crystalline powder. Methamphetamine is a powerfully addictive stimulant that dramatically affects the central nervous system. The drug is easily made in clandestine laboratories with common household ingredients. Meth users commonly smoke, snort, inject or orally ingest the drug. Methamphetamine produces a "high" that lasts 8-24 hours. (Information obtained from National Institutes of Health)
Could there be a Methamphetamine lab in your neighborhood?
Here are some possible warning signs:
Unusual strong odors (like cat urine, ether, ammonia or acetone)
Residences with windows blacked out
Lots of traffic - people coming and going at unusual times
Excessive trash - including large amounts of items such as antifreeze containers, coleman fuel, red chemically stained coffee filters, drain cleaner or duct tape
Unusual amounts of clear glass containers being brought into the home
The following items are commonly associated with Meth Labs:
Alcohol
Iodine Crystals
Ether
Red Phosphorus
Benzene
Black Iodine
Paint Thinner
Red Devil Lye
Freon
Drano
Acetone
Battery Acid/Sulfuric Acid
Chloroform
Epsom Salts
Coleman Fuel
Batteries/Lithium
Starting Fluid


Wooden Matches
Anhydrous Ammonia
Propane Cylinders "Heet"
Hot Plates
White Gasoline
Ephedrine
Phenyl-2-Propane
Cold Tablets
Phenylacetone
Bronchodilators
Phenylpropanolamine
Energy Boosters
Sodium Metal
Rock Salt
Muriatic/Hydrochloric Acid
Diet Aids

IF YOU SUSPECT A METH LAB IN YOUR NEIGHBORHOOD CALL 349-2076.
For Emergencies call 911. You will remain anonymous.