Macon County Public Safety • Sheriff's Office
Community Safety Programs
COMMUNITY WATCH
A Community Watch group can be the "eyes and ears" of law enforcement. Community Watch is a crime prevention program that enlists the active participation of residents, in cooperation with law enforcement, to reduce crime and victimization in their communities. It involves:
Residents using common sense crime prevention practices to protect themselves and their property.
Neighbors getting together in programs of mutual assistance to prevent crime.
Residents being trained to recognize and report suspicious activity in their neighborhood.
If you are interested in establishing a Community Watch program in your neighborhood, contact Mr. Dereck Jones, 828-349-2413 for more information.
---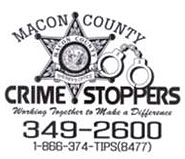 CRIME STOPPERS
Macon County Crime Stoppers is a non-profit organization of citizens against crime. Crime Stoppers offers cash rewards to anyone furnishing anonymous information that leads to the arrest of criminals, including those committing serious felony crimes, and fugitives.

Crime Stoppers is based on the principal that "Someone other than the criminal has information that can solve a crime" and was created to combat the three major problems faced by law enforcement in generating that information:
Fear of REPRISAL
An attitude of APATHY
Reluctance to get INVOLVED
Crime Stoppers resolves these problems by:
Offering ANONYMITY to people who provide information about crimes.
Paying REWARDS when the information supplied leads to arrest.
Locally, the Board of Directors of Macon County Crime Stoppers are Chairman: Sam Fiske of Smoky Mountain Systems, Vice Chairman: Bryan Rauers of Franklin Ford, Treasurer: Jim Garner of Wayah Insurance, Secretary: John O'Conner of the Macon /Jackson Fraternal Order of Police, Public Relations: Donald Holland of Holland Car Wash.
---
D.A.R.E. PROGRAM
The Macon County Sheriff's Office is proud to be part of the D.A.R.E program. The program was started by a group of Los Angeles police officers and schoolteachers that were concerned because kids were taking drugs. These drugs were destroying kids' lives. The police officers and schoolteachers joined forces and launched D.A.R.E. to teach kids about the dangers of drugs and violence and how to protect themselves from it.
The police wanted to steer kids away from dangerous drugs and help them make smart choices, like playing sports and starting hobbies instead of using drugs and hanging out on the streets.
D.A.R.E. was born in Los Angeles California in 1983 and now is taught in all 50 states in the U.S., as well as in 53 countries. All in all, the D.A.R.E. program will reach 50 million children around the world this year alone.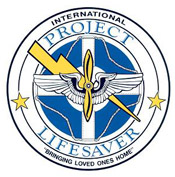 PROJECT LIFESAVER
Macon County Sheriff Robert Holland is pleased to announce the implementation of a new program called Project Lifesaver. This is a search and rescue, rapid recovery program that targets persons enrolled in the program that have the tendency to wander due to Alzheimer's, Autism, Dementia, Down-Syndrome and other age macular degeneration (ARMD) related conditions or disorders.
Project Lifesaver deploys radio technology to locate, rescue and return to home missing persons enrolled in the program. Each client enrolled in the Project Lifesaver Program wears a personalized wristband transmitter that emits a tracking radio signal 24 hours a day / seven days a week. Each wristband has a separate and unique radio frequency.
The Macon County Sheriff's Office has four members that have been trained and certified as instructors and operators with six additional officers trained operators of the search and rescue radio equipment in the event a client wanders and the Sheriff's Office is alerted. Training was provided by designated Project Lifesaver trainers.
In addition to members attending the training for equipment and instructor certification, they also received training in the methods necessary to communicate with a person inflicted with Alzheimer's, Dementia or a related disorder. Wanderer's, when confronted, often will be disoriented, anxious and untrusting. The trained members of the Sheriff's Office have been instructed on the most appropriate manner to approach the found wanderer, how to gain their trust and how to put them at ease for their return trip back home.
The Sheriff's Office has two Project Lifesaver receivers that have the capability of being used by hand during a foot search as well as from a patrol vehicle mounted antenna in the event a vehicle search of a wider area is required. The highest priority is to make a quick and safe recovery of an enrolled wanderer in the shortest time possible. In addition, this program can reduce the time and cost of a traditional search from hours to minutes. Nationally, the average recovery of clients enrolled in this program is about 30 minutes.
The Macon County Sheriff's Office is now accepting applications from interested caregivers or families of loved ones that they may want to enroll into this program. There are no costs to the family. The entire program is non-profit. If you would like to learn more about this program or make a donation, please call the Macon County Sheriff's Office at (828) 349-2104 or click on the link below. A qualified Project Lifesaver member of the Sheriff's Office will either be available to answer your call or will re-contact you if a return number is provided.

To request more information or to have a member of the Sheriff's Office contact you, please click here.
The Sheriff's Office is a member of the Alzheimer's Foundation of America.
---
VOLUNTEER PROGRAM
What is a Citizen Volunteer?
A citizen volunteer in police/sheriff service is a member of the community who provides support services to a law enforcement agency without monetary benefits. Services typically include community outreach, telephone work, research, and other administrative tasks.
Why Volunteer in Law Enforcement?
Law Enforcement agencies often strive to meet public safety challenges with limited resources. Since the terrorist attacks of September 11, 2001, most agencies have needed even more resources for homeland security efforts. Citizens can step in and help fill critical gaps in order to free officers to focus on these and other priorities.
Who can Volunteer?
Citizens of almost any age and background can volunteer to help out. Even youth can volunteer – many agencies offer a Law Enforcement Explorer Program.
What are the benefits of Volunteering?
Citizens who volunteer to help law enforcement gain in many ways. They will
Help make their communities, their cities, and their country safer from crime and terrorism.
Gain insights into the law enforcement system and how it works.
Have an opportunity to improve the quality of their local law enforcement service.
Be A Part Of Your Community! Join the Macon County Sheriff's Office by volunteering just 4 - 8 - 12 hours weekly at the new Law Enforcement Center in Franklin, NC. Opportunities available 7 Days from 9:00 AM to 5:00 PM. Contact Lt. Steve Stewart at (828) 349-2264.