Macon County • Sheriff's Office
Memorial Page
In Memory Of "G-540"
North Carolina Highway Patrolman • David Shawn Blanton, Jr.
January 19, 1984 - June 17, 2008
By Sheriff Robert L. Holland

During the past few days I have found myself often thinking about the tragedy surrounding the death of one of our own, NC Trooper David Shawn Blanton Jr. and imagining the events that occurred during that dark night in nearby Haywood County. Still, even today, I find myself deeply saddened at not only the loss of a brother law enforcement officer but of a young man in his prime.
While pondering the chain of events in my mind, each time I conclude by thanking God that such a tragic event did not come any closer to home. It is shameful that such a young Trooper who had a brand new baby boy has had his entire life and career stolen from him. How sad it is to know that the actions of another, has robbed him of the opportunity to see his son grow and the chance to share each and every moment through the years with his young wife.
Instead, a little boy will grow up and learn how his father was a brave officer and how he paid the ultimate sacrifice protecting and serving his community.
While attending his funeral with a number of my deputies, I listened to Trooper Blanton's minister describe "Trooper Blanton as a hero not because he died in the line of duty, but instead, because of how Trooper Blanton lived his life." What a wonderful tribute for anyone to be remembered by. I heard his friends describe him as the type of person that, not only his son could look up to, but all of us.
Trooper J.P Henderson, told those attending his partner's funeral that his friend always had a smile with a "giggle" that was indescribable and was a man who never met a stranger that was always willing to help others. Trooper Blanton will also be remembered as the first member of the Eastern Band of the Cherokee Indians to serve with the North Carolina Highway Patrol.
To those that cared: While thinking about the situation of that night, I have found myself being overwhelmingly grateful that citizens rushed to his side and attempted to render aid to the young Trooper. I thank God Trooper Blanton had citizens such as these with him. The thought of Trooper Blanton dying alone on that dark roadside would have been yet another horrible image his wife and family would have had to live with. This would have been just one more terrible addition to the horrible images that will already cause them to have many sleepless nights. The truckers and citizens who risked their own lives to help trooper Blanton are heroes themselves and the law enforcement community thanks each and every one of them for their bravery and compassion for one of our own.
To our community: I wish to thank you for allowing us the opportunity to "Protect and Serve" you. I know that I can speak on behalf of all of law enforcement when I say that we consider it a privilege and an honor for the opportunity. The responsibility you have bestowed upon us is something we do not take for granted. As the Chief law enforcement officer of Macon County, I want you to know that your community is protected by a great group of brave and dedicated law enforcement officers on the local, state and federal level. Not only within your Sheriff's office, but within agencies such as the Franklin Police, Highlands Police, State Bureau of Investigation, NC Wildlife Commission, NC Highway Patrol, DEA, FBI, and Marshal Service. While the death of Trooper Blanton has affected each of us in different ways, his death serves as a reminder to us all as to just how dangerous the responsibility of protecting our community really is. Stopping a vehicle on the side of an interstate is no different than stopping someone in downtown Franklin, on 441 South or even on one of our back roads in the outlying areas of the county. A tragedy such as this can happen anywhere, anytime, and to any one of us. Macon County has truly been blessed and God has been watching over us all.
To those that serve: I thank all of our law enforcement officers that "Protect and Serve" our community as well. In whatever capacity you serve, each plays an important role in our society. I believe that law enforcement is not only a profession but a calling. A law enforcement officer must have compassion, integrity, understanding, and lots of patience for your fellow man.
As each of you know, once you enter this profession it doesn't take long to figure this out. With the death of a brother officer, we all feel a sense of loss. With that loss, we should remember that we are also extremely blessed. One reason is because it could have easily been you or someone you work with that died that night. It could have been you that didn't get the opportunity to check 10-42 that night but during this time of grief I know that each of you have already thought of that. You go to work daily knowing the risks and that is another reason why I am taking this opportunity thank each of you for what you do and for the sacrifices you make to be in this profession. Every night when you leave for work, you accept the fact that there is no guarantee that you will come home to your family safely. Today you will put on your uniform, pin your badge on, holster your duty weapon and tell your family good-bye. You will then go to your patrol vehicle, check 10-41 (starting tour of duty) and drive the roadways alone protecting and serving your community just as G-540 did on June 17, 2008. A simple thank you does not seem like enough, but in reality, there are no words to express my, as well as the community's, true appreciation for what you do.
To the Blanton family: On behalf of my family, my staff, and our entire the law enforcement community, Our hearts and prayers are with you as well as with Trooper Blanton's brothers and sisters who worked with him. We thank each of them for their dedicated service and commitment to keeping our families, our community and our state safe.
To Jesse Blanton and his brothers and sister: While I have never met you, our hearts ache for you. I know your heart is aching like never before with the loss of your brother and for that I am truly sorry. Each of you will continue to be in our prayers. While I heard you describe how proud you are of your brother, know that some of his friends know just how proud Shawn was of you. Continue to make your brother proud, keep his memories alive and strive to make the right decisions in all that you do. I know you will always cherish the days you had with him and I'm sure you will hold each of them dear to your heart. Always remember that during the days to come that God loves you and will always be there for you. I can't explain why God doesn't keep these types of things from happening but can only assume that God had a much greater plan for your brother. I pray that someday Shawn will be able to fill you in on what that plan was. While your brother will always be your hero, you'll have to share him because he will always be a hero to us as well.
To Michaela and baby Tye: We know you have sustained a tremendous loss with the passing of your husband and daddy. We can only imagine the heartache you must be feeling today and we are sorry. We want you to know that our thoughts and prayers will continue to be with you. If we can ever do anything for you please do not hesitate to call on us. We know that Shawn would do the same if it was our family who was suffering from the same type of loss.
To G-540: We are forever grateful for your service to your community, state, and country. You and your family will continue to be in our thoughts and prayers and rest assured our law enforcement community will do our part to help those you loved.
Note: More officers are killed in the south than in any other area of the nation.
NC ranks fourth in the U.S. for officers killed in the line of duty.
From 1997-2006, NC had 22 officers killed in the line of duty.
During 2007 the United States had 187 officers killed in the line of duty.
North Carolina had 8 officers killed in the line of duty in 2007.
In the history of the U.S, 18,274 officers have been killed in the line of duty and 458 of the officers killed while serving in North Carolina. (Source) Officer Down Memorial Page, Inc.
---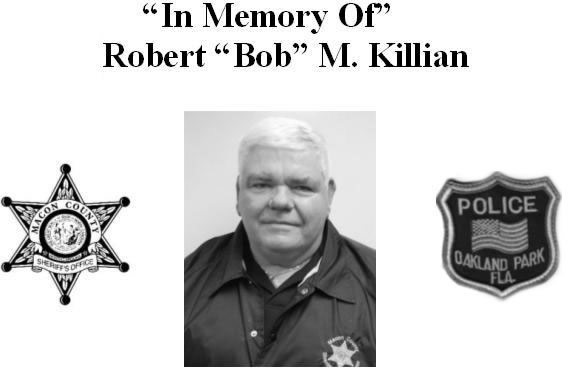 On June 28, 2008 members of the Macon County Sheriff's Office and those in attendance dedicated a new memorial garden in memory of Deputy Bob Killian and those we lost during their service with the Macon County Sheriff's Office. The Garden is also dedicated honoring those North Carolina officers who have been killed in the line of duty.
Bob served 12 years as a Deputy with Macon County Sheriff's Office and was a retired 20 year Police Sergeant with Oakland Park Police Department, Broward County Florida. Bob moved to Franklin, North Carolina from Hollywood, Florida in 1996 with his young bride Ruth, they were married for 41 years.
Bob was a Transport Officer while working at the Macon County Sheriff's Office.
Bob served during the Vietnam War in the Marine Corp.
On June 28, 2008 at 11:00 am the Macon County Sheriff's Office held a memorial service in memory of Bob at the Law Enforcement Center where a tree was planted in memory of our friend and loyal public servant Bob Killian.
During the memorial service, Sheriff Holland presented an encased United States Flag and deputy badge as appreciation to Deputy Killian's wife for his service to his community, county and country.