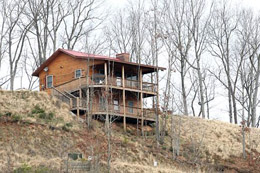 CONTACT:

Department of Planning, Permitting
& Development
Human Services Building
1834 Lakeside Dr.
Franklin, NC 28734
(828) 349-2073
Office Hours: 8:00am - 4:30pm
Phone Answered - 8:00am - 5:00pm
---
Environmental Services:
NC DENR (Department of Environment and Natural Resources)
Macon County • Department of Planning, Permitting & Development

Planning Section

Safe Slope Development
Slope Regulations FAQ
Why does Macon County need steep slope regulations now?

While landslides have been happening in our mountains for eons, they have primarily occurred on unmodified slopes due to natural forces. Traditionally, people did not build on or disturb areas with steep slopes. However, in the last few decades development in steeper areas has increased tremendously. Modified slopes are inherently more prone to landslides than natural slopes. According to a study by the Asheville Citizen-Times, over the last decade, 534 WNC landslides and debris flows have killed six people and destroyed 40 buildings. Over the last 20 years, the study found, slides accounted for $13.4 million in property damage. To protect lives and property and to maintain the character of the mountains thats central to our regional identity and the basis of our economic development, we must enact and enforce regulations that acknowledge the risks of development on steep slopes.

How do we know which slopes represent the greatest risks?

We are fortunate that the North Carolina Geological Survey made Macon County the first in the state to get maps that identify slopes and soils that are prone to failure and deserve sensitive treatment.


What sort of rules are we talking about?

Only slopes 30% and over would be regulated. Those between 30% and 40% could hopefully be handled by county staff. Those 40% and greater would require plans and engineering by a licensed professional to: 1) Provide for stability for cut and fill slopes; 2) Provide for stable fill by requiring standards for fill placement; and 3) Avoid areas with the greatest potential of debris flow damage by having a setback from those areas deemed downslope hazard areas on the maps.


Will these regulations increase the cost of construction?

Yes, construction costs will rise for those sites covered by the regulations compared to building without proper precautions. But costs for preventing the collapse of buildings and the erosion of scenic mountainsides are small in comparison with the costs of cleaning up after slides or just attempting to maintain improperly constructed slopes. And, of course, it's impossible to put a price on lives and livelihoods lost through poor planning.
How much will the new rules add to the costs of development?

Expenses will vary from site to site. Several experts have suggested that proper engineering and site preparation might add about $8,000 to the cost of a typical home built on a 40% slope.
Won't these regulations hurt the local economy?

From looking at permitting statistics from WNC counties, such as Haywood and Jackson, which have adopted slope regulations, it appears that those regulations have had no negative impact on development.
Will these rules stop development on steep slopes?

No, it will only require that development be done in a way that minimizes the risk of slope failure.

Macon County Workgroup for Slope Development Strategies - June 2010