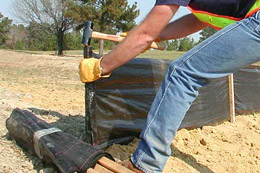 CONTACT:

Department of Planning
&
Department of Code Enforcement
Human Services Building
1834 Lakeside Dr.
Franklin, NC 28734
Planning (828) 349-2073
Code Enforcement (828) 349-2072
Office Hours: 8:00am - 5:00pm

---
RESOURCES:
Inspections:
Planning:
Environmental Services:
Municipalities:
Utilities:
Macon County • Department of Planning & Department of Code Enforcement

Environmental Section
The Environmental Section of the Macon County Department of Planning, Permitting & Development is charged with enforcing several ordinances within the County. These include the following:
Flood Plain
The Macon County North Carolina Flood Ordinance is based on the model FEMA ordinance. It is necessary for Macon County to adopt and enforce this ordinance so property owners in Macon County can participate in the National Flood Insurance Program. Macon County's ordinance is designed to regulate areas that are within areas of special flood hazards in Macon County. This does not include municipality's jurisdictions such as the Town of Franklin and the Town of Highlands' Corporate and ETJ (Extraterritorial Jurisdiction) areas.

Our office is responsible to house and maintain all Flood Hazard Maps and Documents related to this ordinance and the National Flood Insurance Program, and our department is tasked with enforcing the requirements of this ordinance and complying with all required State and Federal standards related to the NFIP.
Sedimentation & Erosion Control
The Macon County Sedimentation and Erosion Control Ordinance, is based on the North Carolina Model ordinance as adopted by NC Department of Environment & Natural Resources. It is designed as a regulatory tool to enable Macon County to enforce the NC DENR requirements rather than rely on NC DENR staff. The purpose of this ordinance is to ensure that State approved practices are used to limit or restrict sedimentation and erosion issues within Macon County. Our department is tasked with administering this ordinance in all areas of Macon County except for the Town of Highlands, (they have their own program) and state or federally owned properties.
Watershed Protection
The Macon County Watershed Protection Ordinance is designed to protect public Drinking Supply Watershed areas within Macon County. There are two drinking water supply watersheds that this ordinance is designed to protect, one is for the Town of Franklin and one for the Town of Highlands. The purpose of this ordinance is to restrict certain uses within these watersheds, such as hazard chemical storage etc.; to limit the amount of impervious surfaces allowed in these watersheds, and to restrict the lot sizes within these watersheds so as to limit the number of structures.
Macon County's Watershed Protection Ordinance is also modeled after the NC DENR ordinance. Our department is tasked with administering this ordinance in these watersheds except for the portion of Highlands' watershed that lies within their jurisdiction, i.e. Town limits and ETJ.
---
All county ordinances are recorded in the Office of the Register of Deeds
Todd Raby - Register of Deeds
(828) 349-2096
Specific questions relating to current Ordinances should be directed to:
Mike Decker
Courthouse Annex
5 West Main Street
Franklin, NC 28734
Phone: (828) 349-2020
mdecker@maconnc.org