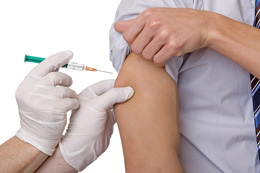 CONTACT:
Macon County Public Health Center
1830 Lakeside Drive
Franklin, NC 28734
Phone: (828) 349-2081
Franklin or Highlands
Fax: (828) 524-6154
Kathy McGaha, MS, Director

Macon County Public Health
Immunization Services
---
Immunizations
Macon County Public Health offers state required, as well as recommended vaccinations/Immunizations for adults and children. Macon County Public Health also offers Foreign Travel Immunizations and counseling for people traveling out of the USA.
---
Flu Vaccine Clinics
---
---
When coming to the drive-thru clinic, please remember:
Bring your insurance, Medicaid, or Medicare card
Wear a short-sleeve shirt or a shirt where there is easy access to your shoulder to receive your vaccine
Remain in your vehicle, staff and nurses will provide your vaccine from the comfort of your vehicle
Wear a mask when talking with clinic staff, if you are able
For transportation assistance, please call Macon County Transit at 828-349-2222
If you do not have insurance and are paying for the flu vaccine out-of-pocket, please bring your payment in cash or check
Children who do not have insurance or are under-insured can have the cost of the vaccine covered
If you have additional questions, please call Macon County Public Health at 828-349-2081.
---
Childhood Immunizations
Macon County Public Health offers childhood immunizations required by the state of North Carolina, Child and Adolescent Immunization Schedule (birth to 18 years): https://www.cdc.gov/vaccines/schedules/hcp/imz/child-adolescent.html

These vaccines are required for school in North Carolina and are good for your child's health. Ask about vaccine charges and eligibity for special, lower cost programs when you call for an appointment. Talk to your child's physician if you are not sure if your child is up to date on their vaccinations.

Recommended Immunizations also offered are: Hepatitis A, Rotavirus, HPV, and Flu (Yearly).
Adolescent Immunizations
Our staff will also review to see if your adolescent needs:
Tdap - (Tetanus, diphtheria, acellular pertussis)
Meningococcal - (meningitis)
Hepatitis A
HPV (Human Papilloma Virus)
Flu - (yearly)
Hepatitis B
MMR (Measles, Mumps, Rubella)
Varicella - (chicken pox)
Adult Immunizations
Macon County Public Health provides vaccinations for adults too! By staying up to date with vaccines as an adult, you improve your health and keep those around you healthy. Immunizations for adults include:
Varicella (Chicken Pox)
Meningitis
Hepatitis A
Hepatitis B
MMR (Measles, Mumps, Rubella)
Shingles (for those over 50)
PPV (Pneumococcal - for people over age 65 with long term health problems)
Tdap (Tetanus, Diphtheria, Acellular Pertussis - everyone needs one dose and women need one each time they are pregnant)
Flu (Yearly)
Foreign Travel
Macon County Public Health offers Foreign Travel consultation and Immunizations.
IMPORTANT TO KNOW:

You must make an appointment to get foreign travel immunizations.
Some vaccines required for travel in some countries must be prepaid and ordered before your appointment.
Some immunizations require several weeks to offer full protection before you travel.
There are fees for almost all foreign travel immunizations. Payment is expected at time of service.
Insurance - please bring insurance info with you. We bill Medicaid, Medicare, and most private insurances.
Self-pay - we accept cash, money orders, checks, debit and credit cards.
The state of North Carolina offers certain free vaccines to those who qualify.
Foreign Travel Appointment:

We recommend at least one month before your travel date.
4 weeks before your travel date, make an appointment by calling 828-349-2081.
A nurse will contact you before your appointment to get more information from you before your appointment.
What to bring to the appointment:

Any immunization records that you have
Forms that you may need for your travel
Trip Itinerary
List of medications and allergies
Insurance information and/or payment for visit
---