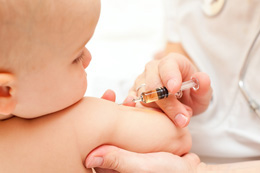 CONTACT:
Macon County Public Health Center
1830 Lakeside Drive
Franklin, NC 28734
Phone: (828) 349-2081
Franklin or Highlands
Fax: (828) 524-6154
Kathy McGaha, MS, Director

Macon County Public Health
Child Immunization Services
The Macon County Public Health Center provides childhood and adult immunizations by appointment Monday through Friday from 8:00 am until 4:00 pm.
The goal of the program is to promote health by eliminating vaccine-preventable diseases.

Children's Immunizations
Most routine children's vaccines are available and are given according to the current schedule of the NCDHHS. An order from a Medical Doctor is not required for routine vaccines. There may be a charge for some vaccines. Available vaccines include:
Tdap (diphtheria/tetanus/acellular Pertussis)
DT (diphtheria/Tetanus)
Pediarix (combined DTaP, Hepatitis B, IPV)
Td (Tetanus/diphtheria)
Hib (Haemophilus influenza type B)
IPV (Inactivated polio)
MMR (Measles/Mumps/Rubella)
Pediatric Hepatitis A
Hepatitis B
Menactra
Varicella (Chickenpox)
Pneumococcal Conjugate (for high risk children)
Pneumococcal Polysaccharide (for high risk children)
Influenza (seasonal for high risk children)
Rotatec (infants only)
Adult Immunizations
Vaccines are also provided for adults who meet the eligibility criteria . There is a fee for most of the adult vaccines and some of the children's vaccines.
Vaccine available routinely for adults:
Tdap(free) (Tetanus/diphtheria)
MMR (Measles/Mumps/Rubella)
Hepatitis B
Influenza (seasonal)
Varicella (Chickenpox)

Pneumococcal Polysaccharide (65 and older or high-risk)
Zostavax (Shingles vaccine for 60 years old & older)
Vaccines given for specific circumstances
The following vaccines are given under specific circumstances. Call 349-2081 for information as needed.
Adult Hib ( Haemophilus influenza type B)
Adult Hepatitis A
Meningococcal
Rabies
Twinrix (combined Hepatitis A & B)
Other Travel Vaccines

Frequently asked questions:
Will immunizations make my child sick?

You will be given an information sheet on any vaccine you or your child is to receive which explains possible side effects and contraindications. You should read the information and ask specific questions at the time. Most of today's vaccines have only minor side effects such as soreness at the site or slight fever.


Are these diseases really serious or even around any more?

The diseases which these vaccines prevent were responsible for most childhood deaths and serious illness with lasting effects before they were developed. Cases of the diseases are still found all over the world with varying degrees of prevalence. Failure to maintain vaccine protection will allow the disease rates to increase.


Are immunizations required by law even if I plan to home school my children?

NC law does require immunizations for children regardless of whether they attend public, private or home school. The law requires immunizations be given at the recommended ages beginning in infancy. Students in college/university are also required to receive specific immunizations. We can provide copies of the NC immunization law on request.
International Travel Immunizations
MCPHC provides travel immunizations and health information as recommended by the CDC. Travelers are advised to call and make an appointment. The following vaccinations are available to be given as recommended. Charges apply for most of these vaccines.
Typhoid

Hepatitis A

Hepatitis B

Meningococcal

IPV (Inactivated Polio)

Rabies

Influenza (seasonal)

Tdap (Tetanus/diphtheria)

Yellow Fever

Malaria medication for prevention of malaria infection may be prescribed by the Physician's Assistant as needed.
Clients are also provided with precautions they can take to prevent infections as recommended for the area they will be traveling in.
Links & Resources