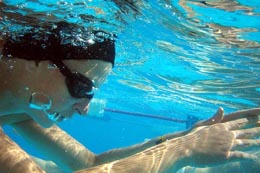 CONTACT:
Macon County Environmental Health
1830 Lakeside Drive, Franklin, NC 28734

Phone: (828) 349-2490
Fax: (828) 349-4136
email

Office Hours:
8:00 AM - 5:00 PM
Monday-Friday
Macon County Public Health
Environmental Health Services

Public Swimming Pools
A "public swimming pool" is defined as an artificial body of water used by the public for swimming, diving, wading, recreation or therapy. The term includes municipal, school, hotel, motel, apartment, athletic clubs and other pools and spas.

There are currently 42 pools, wading pools and spas in Macon County. Public swimming pools must renew their permits to operate in Macon County each year and be inspected by Environmental Health staff.

To see the latest ratings please click here. Refine your search by selecting 50 through 55 for the appropriate facility.
During the inspection, we check water chemistry and temperature; pool construction features such as fences, ladders, steps, decks and lighting; pool circulation system; depth markers, diving markers; safety provisions such as signage, life saving equipment, and suction hazards. Information and resources regarding state public swimming pool requirements are provided below.