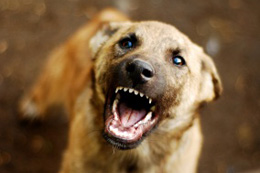 CONTACT:
Macon County Environmental Health
1830 Lakeside Drive, Franklin, NC 28734

Phone: (828) 349-2940
Fax: (828) 349-4136
email

Office Hours:
8:00 AM - 5:00 PM
Monday-Friday
---
IMPORTANT LINKS & DOWNLOADS
Physician Reporting of Animal Bites
(PDF Download)



Macon County Public Health
Environmental Health Services
Animal Bites
North Carolina General Statute I30A-I96 requires that when a person has been bitten by a dog or cat, the person or parent, guardian or person standing in loco parentis of the person bitten and the person owning the animal or in control or possession of the animal shall notify the local health director immediately.
In Macon County such notification is given by contacting Animal Control (click here to be directed to their homepage). An Animal Control Officer will take a report of the incident from the victim of the bite and the owner of the animal.
This law further requires that all dogs and cats that bite a person shall be immediately confined for 10 days in a place designated by the local health director. This is regardless of the status of rabies vaccination. The purpose of the confinement is to isolate the animal for observation to determine if the animal may have transmitted the rabies virus to the victim through the bite.
Should you be bitten by any animal, contact Animal Control with all pertinent information such as the owner's name, address, phone number and description of the animal. If ownership cannot be confirmed, provide the last known location of the animal and the Animal Control Officer will attempt to locate the animal in that area. NOTE: bats, skunks and raccoons are the most common harborers of Rabies in North Carolina.
Should your animal bite someone, be responsible. Assist the victim with the wound and provide them with your name, address, phone number, and information regarding vaccination of your animal against rabies. You are also required by law to contact Animal Control. Call Macon County Animal Control at (828) 349-2106.